Chaas, also called as Mor in South India, is a common drink in most Indian households. It is roughly called in English as buttermilk. It is the Indian drink for healthy summers and was previously found in every home. There are many health benefits of traditional buttermilk, which will not only let you have a healthy summer season but keep you active and away from summer ailments as well.
Recipe for Traditional Buttermilk:
1 cup Yoghurt / Curd
3 cups Water
1/2 teaspoon Cumin Powder
2 Green Chillies
1 inch piece of Ginger
1 tablespoon Coriander Leaves
Salt to Taste
(1 Cup Capacity = 250ml)
For Seasoning:
1 teaspoon Oil
1 teaspoon Mustard Seeds
Few Curry Leaves
1/4 teaspoon Hing
[wp_ad_camp_1]
Method of Preparation:
Take curd (yoghurt), water and salt and using a whisk mix it well. Add chopped ginger, green chillies, coriander leaves and cumin powder and mix well.
Heat oil in a pan, add mustard seeds and when the mustard seeds starts to sputter, add hing and curry leaves and fry for 10 seconds and remove from flame and add the seasoned ingredients to the buttermilk and mix well.
Serve the yummy and scrumptious buttermilk as such or serve chilled.
The following are some of the benefits of this traditional drink.
Buttermilk Keeps the Body Hydrated
Buttermilk is a tasty combination of water, curd, essential spices and salt. It is packed with beneficial electrolytes. The salt and water works to keep our body hydrated. It is an excellent drink for summer when we need to fight dehydration.
Buttermilk Cuts Down Fats
If you feel bloated or simply have eaten too much then drink a little bit of buttermilk. The ginger, pepper and other spices in chaas help to improve the digestion and make you feel less uncomfortable. Apart from that buttermilk is very effective in washing down the fat, oil or ghee that normally coats inner walls of your food pipe and stomach making you feel instantaneously lighter.
Buttermilk  is High in Calcium
Buttermilk is a rich source of calcium. A cup serving of buttermilk will satisfy 28% of your calcium requirements. Calcium is a nutrient that promotes stronger, denser bones. It reduces the risk of bone disease including osteoporosis. Calcium also aids in muscle contraction and supports cell communication.
Buttermilk Reduces Blood Pressure
Buttermilk is rich in bio-active protein which has antiviral, anticancer and cholesterol lowering properties. Having buttermilk on a regular basis helps in lowering and controlling blood pressure. It works as a natural remedy to reduce high blood pressure.
Buttermilk Helps in Digestion
Ginger, pepper and jeera all make an excellent digestive agents. Known for their carmative properties individually, together in a tall glass of buttermilk they make the best natural digestive out there. So, If you feel an attack of indigestion coming on, try sipping on some chaas for immediate relief. Are you suffering from indigestion? Try adding mint to quiet your digestion trouble.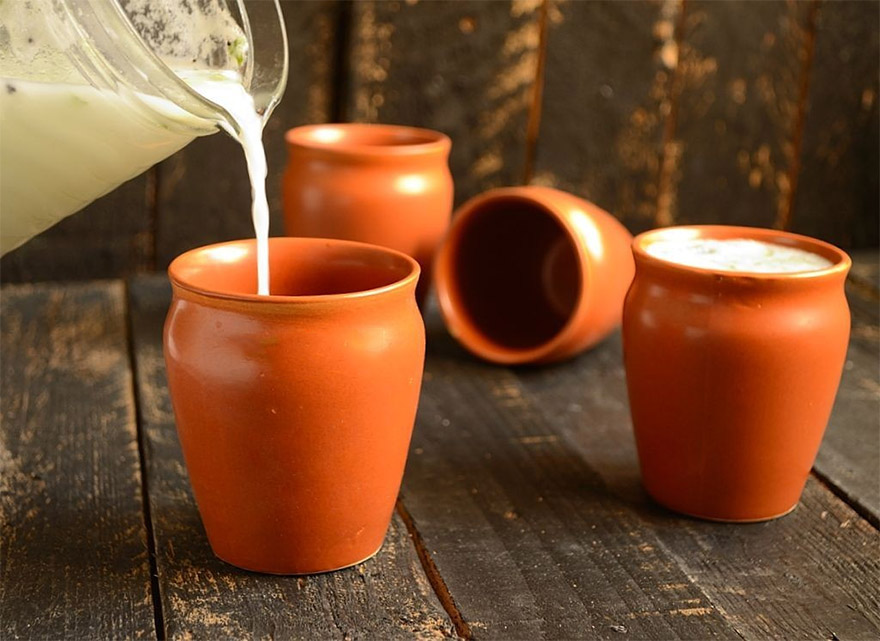 Buttermilk Reduces Cholesterol
Buttermilk has several special components which help in reducing cholesterol levels. Consuming a glass of buttermilk everyday helps in reducing cholesterol levels and controls it naturally.
Buttermilk is High in Protein
Buttermilk is an excellent source of protein too. A cup of buttermilk will satisfy about 15% and 17% of protein needs for men and women, respectively. Protein helps facilitate muscle growth, tissue repair, and fat breakdown. This nutrient also keeps the bones, muscles, and skin healthy and strong.
Buttermilk  Helps with Acidity
A powerful tool to fight acidity, buttermilk has essential spices like pepper and ginger that help to beat the burning sensation you feel during a short period of acidity. Moreover the buttermilk cools the stomach and reduces the irritation in the stomach lining due to acid reflux, giving you relief from the discomfort.
Buttermilk Helps in Weight Loss
A glass of buttermilk is an integral part of several diet plans helping people to lose weight effectively. Buttermilk digests foods better and washes down fat and oil which cleanses the system and helps in weight loss.
Buttermilk Has Beneficial Bacteria
Buttermilk is teeming with live beneficial bacteria that keep the digestive tract healthy. Probiotics re-balance the flora of the gastrointestinal tract, reducing the risk of bad bacteria overgrowth. Beneficial bacteria also keep the gut healthy, cutting the risk of cancer, diarrhea, and gastrointestinal diseases.
Buttermilk Helps to Cleanse the Skin
Buttermilk works as an excellent skin cleanser. You can use this as your everyday skin cleanser. To prepare the cleansing solution mix a tablespoon of buttermilk, some drops of almond oil and rose water. Apply this over your face and wash it after 10 minutes. You will love your glowing face.
Source: speakingtree.in