Panchgavya Ayurvedic beauty and wellness products, made using cow urine, dung and milk, are catching on in cities.
It's been a year, still The Thela, a small, unassuming kiosk inside Delhi's plush Select City Walk mall, continues to draw a steady stream of customers. At first glance, it appears to be selling the usual shampoos, scrubs, air purifiers and floor cleaners. What sets Thela apart is the use of cow urine, dung, milk and milk products in the making of all its wares.
[wp_ad_camp_1]
There is a name for such products in Ayurveda — panchgavya (five cow products: dung, urine, milk, curd and ghee, often used together) — and businesses like The Thela are now taking such products to urban consumers across the country, via glitzy retail spaces and e-stores. "I first used products made of cow urine and dung three years ago and found the quality to be exceptional, especially the face pack, shampoo and soap. The packaging, however, was tacky, which got me interested in marketing such products," says Anuradha Modi, 55, founder of Holy Cow Foundation, which runs The Thela.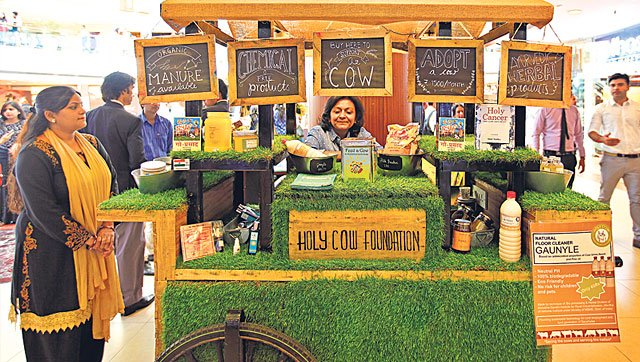 When she started out, she would source her products from an ayurvedic doctor in Mathura. She has since tied up with a number of manufacturers and sells their products at her stall. In Mumbai, Vedic Cow Products has been retailing a range of soaps, hair oils and hair tonics, nasal drops, tooth powder and gau mutra or cow urine via its website, and at Thane district's Bhaktivedanta Hospital and Mumbai's ISKCON temple since 2012. Calves N Leaves, another Mumbai-based company, sells panchagavya foot creams, hair tonics, rash lotions and balms for joint pain from their office in Parel.
Patanjali Yogpeeth, a Haridwar-based institute of medical science and research in yoga and Ayurveda, frontrunners in promoting panchgavya products, has been manufacturing these since 2006 and selling them via retail outlets in cities such as Mumbai, Delhi and Haridwar. Vedic Cow Products has seen a rise of 20% in their customer base and 30% in sales year on year, over the past three years. Calves and Leaves has seen a 10% increase in sales and a 40% rise in number of customers over the past two years.
The Patanjali Yogpeeth centre now collects cow urine worth Rs 1 lakh every day, to be processed and packaged. The products cost anything from Rs 15 for a bar of soap to Rs 450 per kg of ghee. Prices at The Thela range from Rs 50 to Rs 250, except for the ghee, which costs Rs 1,600 per litre. For most customers, use of panchgavya products is driven by a desire to minimise their chemical intake.
"My skin feels softer and smoother now, compared to before, when I was using products from the mainstream market, laden with chemicals," says Sarith Eashwar, 40, a pilot from Mumbai who has been ordering ghee, soap, incense sticks, toothpowder and lotions online from Vedic Cow Products since 2012. "These products are all-natural. Plus, I feel like I am contributing to the care of cows."
This is leading to the growing number of customers in cities, says Acharya Balkrishan, managing director of Patanjali Yogapeeth. "Our products are popular because people have tried them and found them to be effective. When we started, we didn't expect them to become so popular. I now know of modern families feeding gau ark [distilled cow urine] to their kids," he says.
Gau ark is believed to help relieve indigestion and treat an enlarged and fatty liver, among other conditions. "Apart from panchgavya, our products contain only natural herbs and ingredients such as Fuller's earth, neem and pine oil," says Modi.
Meanwhile, at The Thela, footfalls continue to rise, up from about 9 a day when the stall opened to 25 to 30 today. "Our sales have grown by about 10% and we have many repeat customers," says Modi. "Customers say they find our products effective, affordable, natural, and working for a good cause."
Delhi University student Shubhra Bhattacharjee, 19, has just stopped by for a face pack and says she agrees. "My roommate gave me a pack as a gift, and it felt good to use a natural, chemical-free product, so now I'm here to buy another," she says.
Panchgavya products: Pros
The Delhi-based Central Council for Research in Ayurvedic Sciences (CCRAS) under the ministry of AYUSH (Ayurveda, Yoga and Naturopathy, Unani, Siddha and Homoeopathy) cites the following benefits of 'cowpathy'.
1. Strengthens immunity
2. Aids digestion and detoxifies digestive system
3. Has anti-bacterial and fungicidal properties
4. Helps relieve symptoms of a range of eye and skin conditions
5. Is a good natural exfoliator
6. Contains antioxidants
Source: www.hindustantimes.com